Power your practice with the industry's most advanced LOP servicing platform.
Gain connects attorneys and healthcare providers in a single platform to streamline collaboration, increase administrative efficiency and reduce insurance defense risks for personal injury cases. Giving you the power to provide the type of care your clients and patients deserve, and the tools you need to optimize settlement values and reimbursement rates.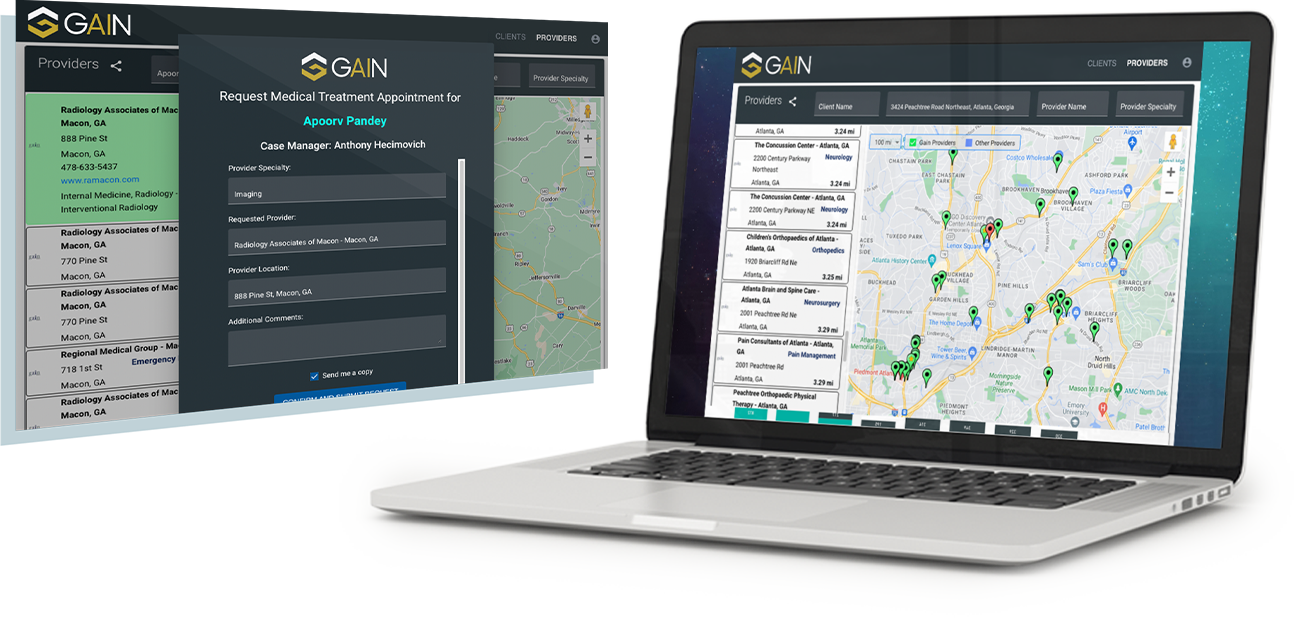 SEAMLESSLY CONNECT TO SCHEDULE CARE
The Gain Platform Provider Map connects attorneys with healthcare professionals that are part of the largest personal injury provider network in the country. 
•  Quickly search for providers by specialty in a location that's convenient for clients.
•  Easily request and schedule medical treatment with Gain-verified providers.
•  Request transportation to medical visits, pharmacy cards or other treatment-related assistance.
LEVERAGE POWERFULAI-ENHANCED INSIGHTS.
Tap into the power of business intelligence with analytics that drive the Gain Platform reporting engine. From practice level to individual cases, you'll have the information you need to make better decisions for today and tomorrow.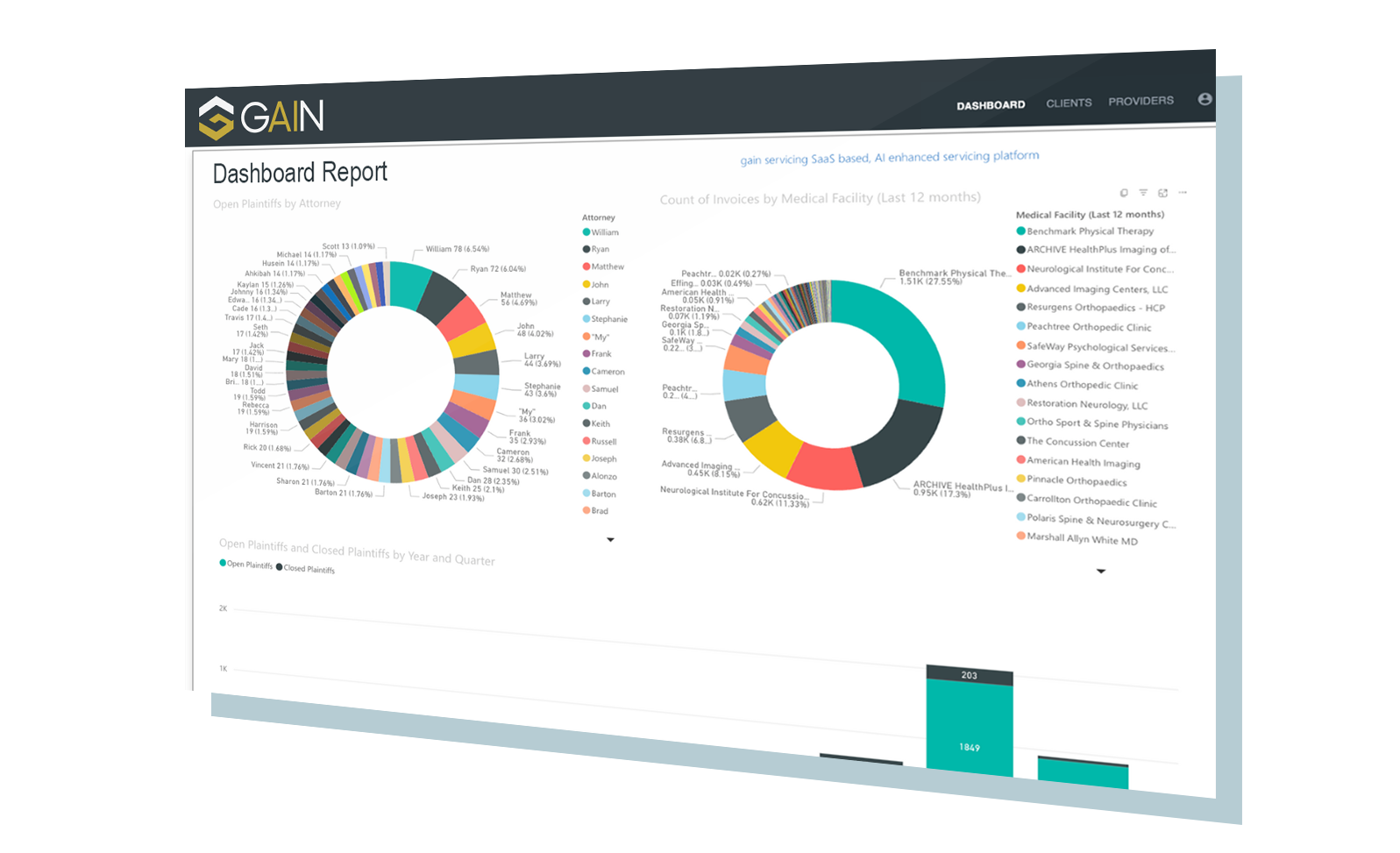 •  Provider and attorney views showing case volume, treatment costs, reimbursement amounts and more. 
•  Drill down to get detailed information on cases by attorney, healthcare provider, or individual patients.
•  Use Gain's database of similar cases to understand standard treatment costs, reductions and reimbursement rates.
•  See how cases are progressing to understand the timing of settlements and payoffs and its impact on cash flow.
SHARING INFORMATION HAS NEVER BEEN EASIER
Gain's secure document storage and messaging system makes it easy to share all of the important documents and updates related to cases. So you save valuable administrative time and have confidence that nothing gets missed.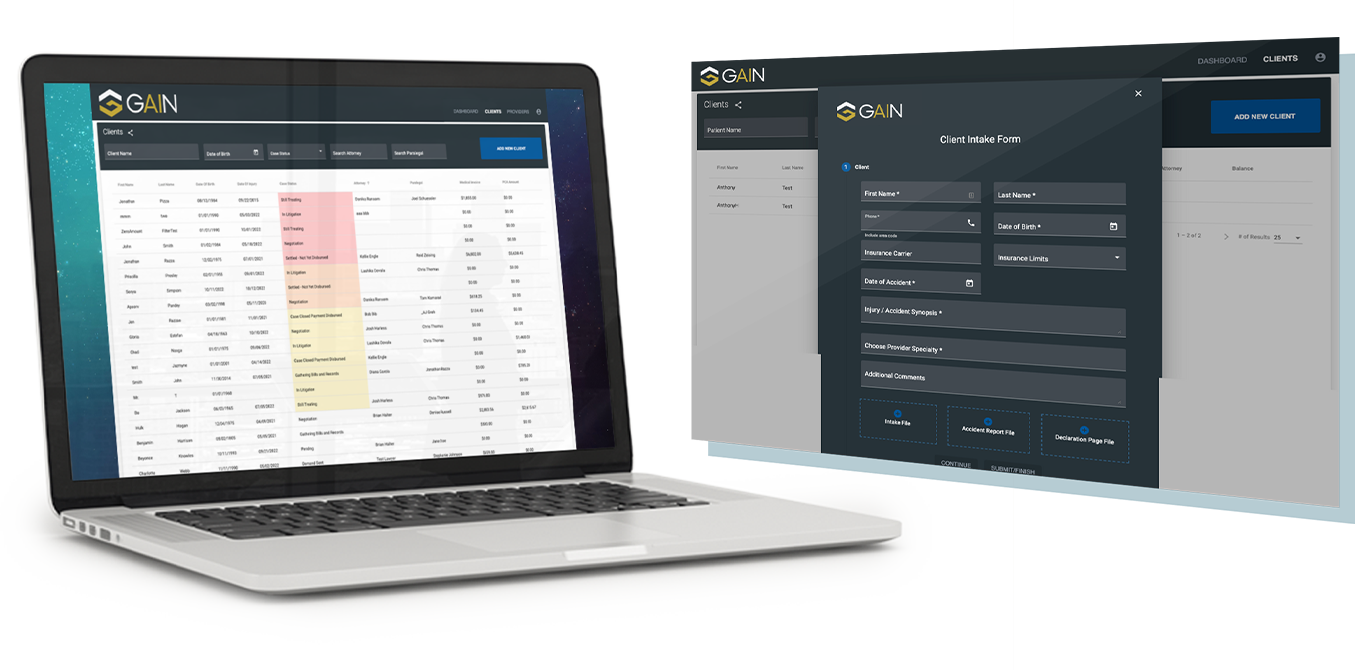 STAY CURRENT WITH STATUS UPDATES
Keeping medical and legal teams in sync as cases progress is critical to achieving positive outcomes. The Gain Platform keeps you up-to-date and informed in one single location.
CLOSE CASES WITH CONFIDENCE
Having the right documentation on treatment costs is important to making sure cases settle for what they should. The Gain Platform is built with the right features and checks to make sure everything is covered.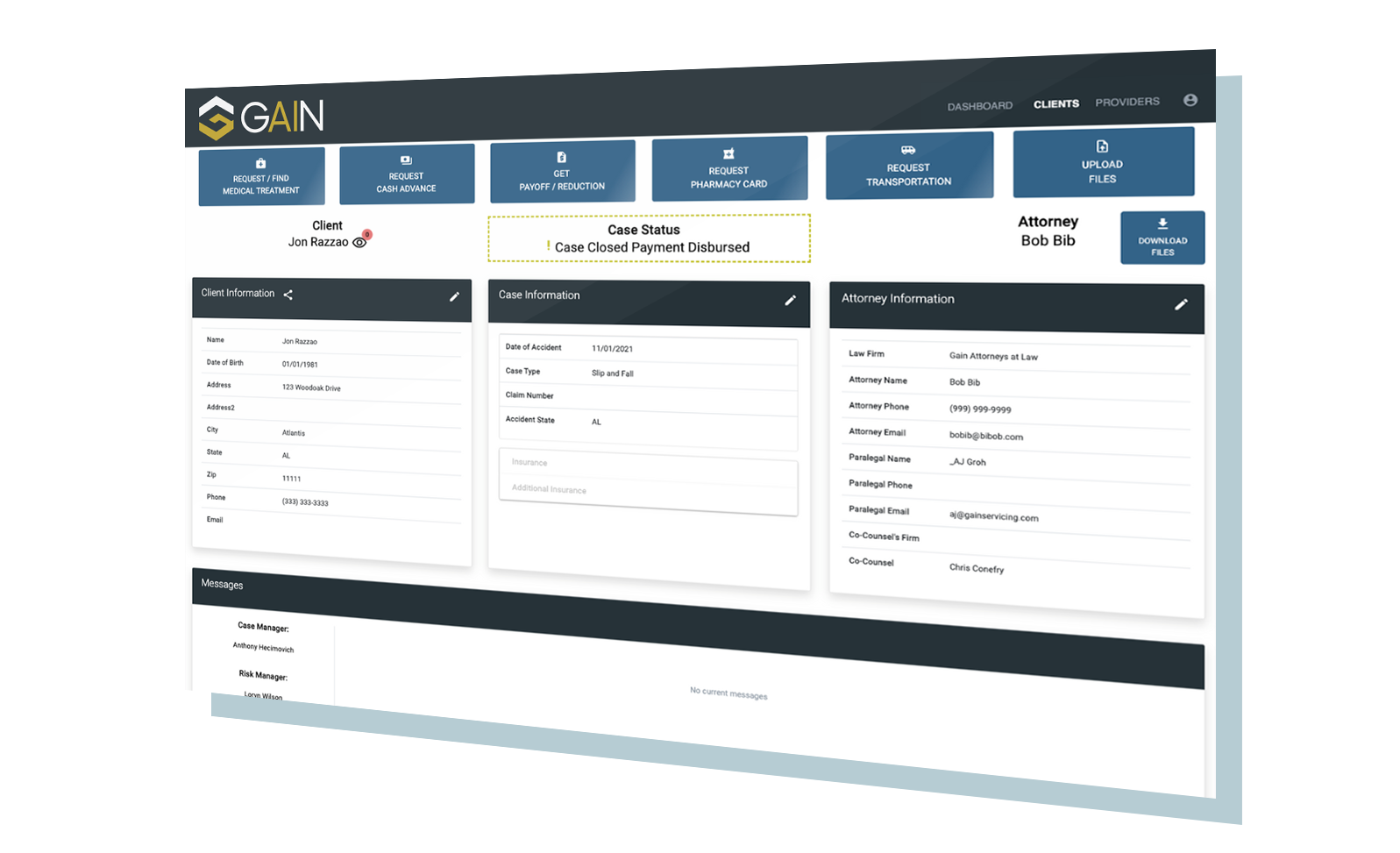 The Gain Managed Services team is ready to assist your team in everything from system setup, getting the most out of Platform features, and using the power of AI-enhanced insights to move your practice forward. 
Experience the power of the industry's most powerful LOP servicing platform. Request a consult and demo today.