Gain brings the industry's leading AI-enhanced LOP servicing platform together with professional managed services and financial solutions to serve healthcare providers, personal injury attorneys and plaintiffs.

Empower your ability to provide best-in-class care to patients in need and optimize practice.

Operate more efficiently and optimize settlement values, while helping plaintiffs get the care they deserve.

Gain peace of mind knowing you can cover your expenses without having to settle for less.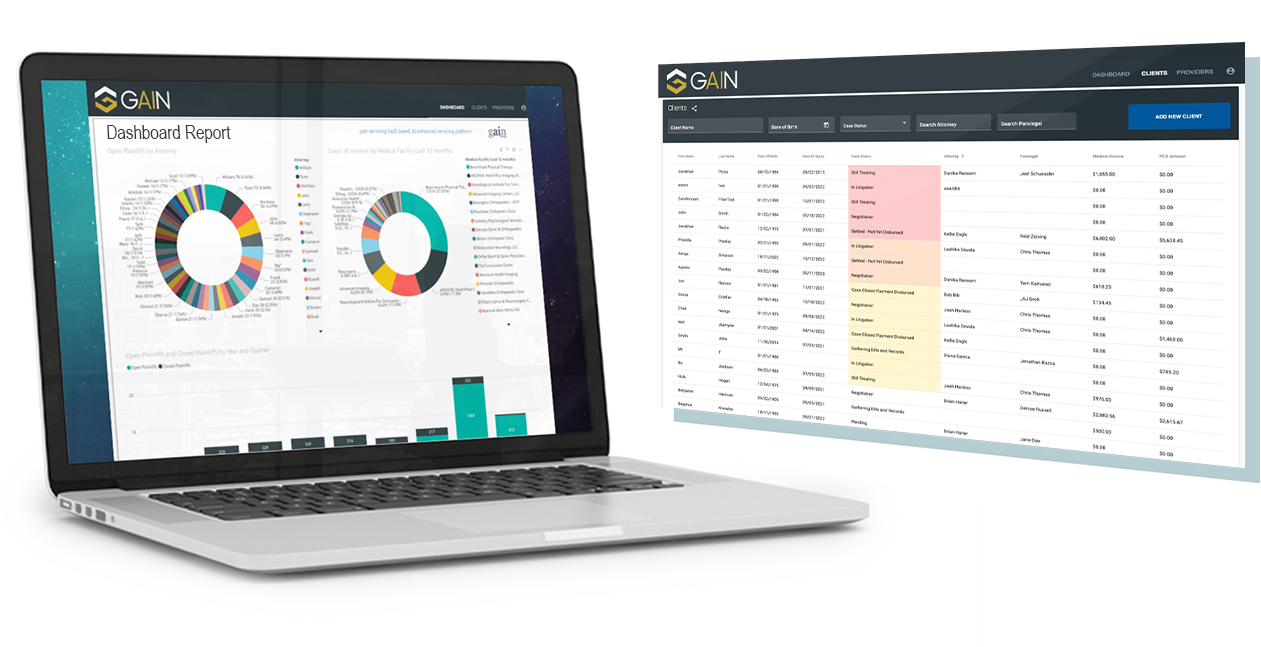 One powerful platform brings it all together.
The Gain Platform connects healthcare providers and attorneys to simplify management of personal injury cases.
•  Patient record center to easily update and retrieve information and documents.
•  AI-enhanced dashboard and reporting to monitor case status, financials and more.
•  Messaging and notifications to streamline communications about cases.
• Provider map to help attorneys search for and schedule client medical care.
CASE MANAGEMENT SERVICES YOU CAN COUNT ON
Turn to Gain's team of experienced professionals to manage the details and financials of personal injury treatment.
•  Full support for healthcare providers to manage Letter of Protection agreements.
•  Negotiating settlement values to reduce write-offs and increase collections.
•  Monitoring the progress of cases to keep all parties informed and up to date.
•  Platform user support, concierge patient connections and more.
FINANCIAL SOLUTIONS FORADVANCED SETTLEMENT FUNDING
Gain helps healthcare providers and personal injury plaintiffs meet their financial obligations while waiting on cases to settle.
•  Lien purchase program to provide cash for unpaid medical lien receivables.
•  Medical funding to pay providers as treatment happens before cases settle.
•  Serving outstanding medical lien receivables to optimize collections.
•  Plaintiff cash advances to cover expenses and remove financial pressures.
LEADING PRACTICES RELY ON GAIN
When I have cases that need medical care I never hesitate to call on Gain. Their focus on the medical needs of the client, rather than the value of the case, allows them to provide a level of service that is unmatched by any other vendor.
Gain has helped streamline our practice's acceptance of Letters of Protection as a payment method, ensuring that all patients have access to top-notch medical care when they need it most, regardless of their ability to pay. With their assistance, we can concentrate on providing exceptional treatment and achieving optimal outcomes for our patients.
With Gain, we can easily locate high-quality healthcare providers for our clients who have suffered personal injuries. Their platform, makes managing cases, scheduling medical appointments, and gathering bills, notes, and records effortless, enabling us to concentrate on obtaining the best outcome for our clients.
Gain Servicing has a business model that allows our practice to accept, and hold, Letters of Protection as a form of payment. Resulting in our practice being able to concentrate on superior clinical outcomes as well as better access to high quality medical care for everyone, regardless of payor source.
ADVANCING OUR PURPOSE EVERY DAY
Our focus is clear – making sure that every person, injured through no fault of their own, gets access to the quality medical care they deserve.
See what Gain can do to improve access to care and optimize the potential of your practice.