Client Testimonials: What Plaintiffs Say About Gain's Legal Funding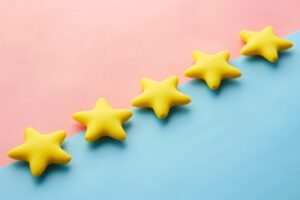 As an industry, legal funding has a colorful reputation. It's a reputation we at Gain look to recreate every day we are in business. From the comprehensive and timely services we provide to the client experience that accompanies every attorney, medical provider, and plaintiff we work with, we are here to provide pre-settlement legal funding for those fighting for justice and fair settlements. And we are here to do it differently.
For those who may be unfamiliar with legal funding, and specifically how Gain does legal funding, here is what we provide:
Gain is a full-service direct legal and medical funding company, headquartered in Atlanta, Georgia.

Gain has funded clients in 40 states represented by attorneys in 26 states.

Gain was founded in 2010 at the urging of several doctors and plaintiff attorneys who wanted a better, more reputable option to refer their clients to.

The idea behind Gain is simple: We help plaintiffs by providing them with funds to pay bills or for medical treatment so they can heal and afford to wait for a fair settlement. And we do it all with 100 percent transparency, world-class customer service, and at a reasonable cost to clients.
From day one, our goal has been to help enable the best outcome for plaintiffs and attorneys by providing them with the legal and medical funding they need to achieve their goals. With over 150 years of combined industry experience, our team prides itself on having the best reputation in the industry.
Gain is also home to Same Day Funding. We know that many people who apply for legal funding cash advances do so because they are in urgent need of funds. Same Day Funding was created to help our clients get access to the money they need as quickly as possible, which is why there is no credit check. The application process is easy and fast, and comes at no cost to plaintiffs.
Client Testimonials
What better way to demonstrate what we do and how legal funding works than with client testimonials? From some of the people who Gain has helped as they sought justice, here is a short list of personal cases and examples of why we're in the business of providing legal funding.
"Everybody said no, except Gain. They approved my pre-settlement loan and I had my funds within 24 hours via Western Union. I was able to get some of my bills taken care of while my attorney [worked] on my case. [I] highly recommend their service."

Mike S. – Haines City, Florida
"This money [helped] us get a therapy pool for Michael, which is needed for his aqua therapy every day. Thank you."
Anonymous
"The service from Gain [helped me pay bills during] this time of need, while lawyers [worked] on my case. The people are genuine, [and] they care about ME."
Helen M. – Griffin, Georgia
"The loan I received from Gain could not have been more helpful! They understood my need[s] and were quick to assist [through] the entire process! Thank you so much!"
Lindy C. – Orlando, Florida
"[Gain was] a great help with overdue needs and bills that have arisen while out of work due to my accident."
Anonymous
"The advancement I received allowed me to catch up on past due rent, utilities and other household bills."
Anonymous
"My daughter was murdered in 2015 and [Gain was] a lifesaver. [They paid] for the funeral and [provided] money to pay for our bills in a timely manner. I would always recommend Gain."
D.C. – Union City, Georgia
"Gain is there when you need them. I received pre-settlement funds [within] 24 hours in order to cover my medical expenses."
Najee G. – Morrow, Georgia
"Thank you for this advancement, now I am able to handle my immediate debt while I wait for my lawsuit to settle."
Anonymous
Legal Funding Thoughts: With Gain Founder & CEO Reid Zeising
"The pre-settlement advances we provide at Gain are critical to leveling the playing field between plaintiffs with legitimate claims and influential, deep-pocketed defendants and their insurance companies. Legal funding provides plaintiffs with pre-settlement cash advances so they are able to meet daily financial needs while they pursue justice. Access to the vital resource of legal funding has crossed over from business model to activist. We consider ourselves defenders of the Seventh Amendment, or the right to trial by jury, and we take that role with a great deal of responsibility. We are constantly self-reflecting on how we are providing legal funds to those in need and how we can do it better every day.
An accident of any kind, but also the legal claim process that follows, is arguably one of the most challenging moments in someone's life. To be able to provide a source of relief is a wonderful feeling, and we are grateful to be in a business built around helping people."
For more information on Gain's services, check out our services overview page, as well as the most frequently asked questions we get on pre-settlement funding and medical funding.